Materials
Pressure Sensitive Labels
For cans and bottles, typically we choose between Paper or BOPP (biaxially orientated poly-propylene) materials for our pressure sensitive labels.
Not used a lot for food/beverage (because of condensation)
Laminates can be applied to mitigate the effects of condensation
Tends to be cheaper
Two Primary Paper Options:
A standard for non-food/beverage, this is paper with a thin coating
Use when you want both metallic elements as well as haptic effects (similar to embossing)
Used more often than paper
Can use laminates or varnishes to protect ink or create texture on label
More versatile


Three Primary BOPP Options:
Just white; all colors "pop" on white
Crystal clear that can show both shiny finish of the can underneath as well as opaque areas with printed white underneath
The material is silver and can be tinted any color; similar to clear, to achieve opaque colors and elements, white can be laid down first in sections
Matte: Satisfyingly non-glossy all over varnish or laminate
Gloss: High gloss all over shine
Soft Touch: Silky smooth all over matte finish
Gloss Spot Varnish: Glossy varnish added to specific sections to create shine highlighting specific areas
Tactile Spot Varnish: Thick glossy varnish added to specific sections of your label that both provide shine and beg to be touched
MicroPrint: Just what you would expect, it's like "Where's Waldo" on your product label
Peek-a-boo: Section of label can be removed and used like a sticker and remaining section underneath can be printed on for a hidden design or message
Mosaic: Random colors or patterns to make unique full variable labels
Collage: Key image elements can be randomly placed, also making more subtly unique labels
Foiling: Foil or silver ink on only specific areas of a label
UV Ink: Works great for hidden messages or promotions, this ink can only be revealed under a black light
Fluorescent Pink Ink: Creates a special kind of pop on labels, also impressive under a black light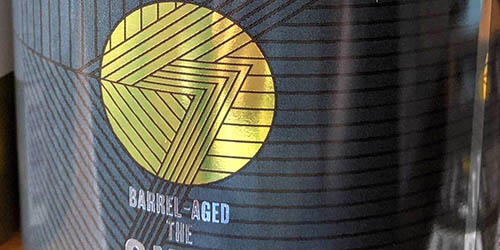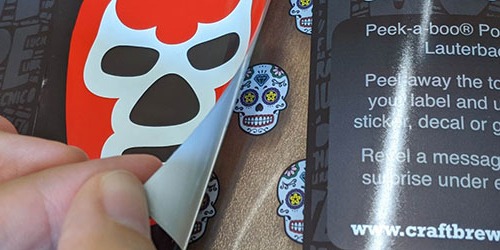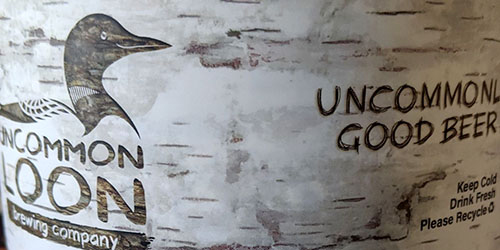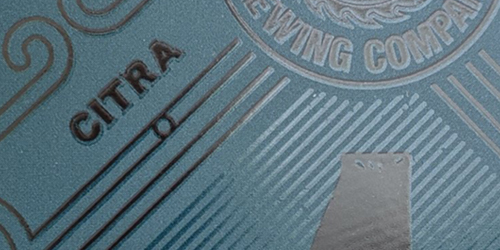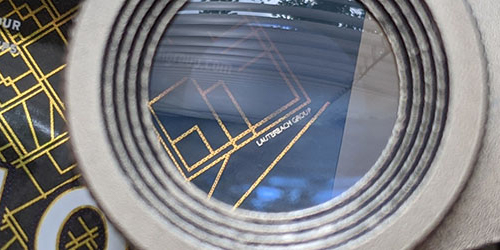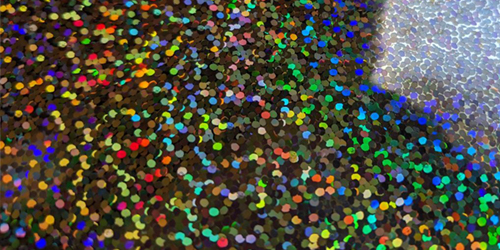 Technically we have produced both PVC (Polyvinyl chloride) and PET (Polyethylene Terephthalate) shrink sleeves, however recycling regulations and the plastic industry direction are moving away from PVC and towards PET because of recyclability.  The chloride portion of PVC can be released as harmful chlorine or HCl gas in certain recycling or disposal methods.
Matte: Non-glossy all over varnish
Gloss: Standard gloss all over shine 
Gloss Spot Varnish: Glossy varnish added to specific sections to create shine highlighting specific areas
Tactile Spot Varnish: Thick glossy varnish added to specific sections of your artwork that both provide shine and beg to be touched
Perforations: Tear-away pants for your beer's shrink sleeve, this makes recycling by the end user easier to guarantee since plastic is separated from aluminum
Most of the same digital print features available on labels are also available on shrink sleeves:
MicroPrint
Mosaic
Collage