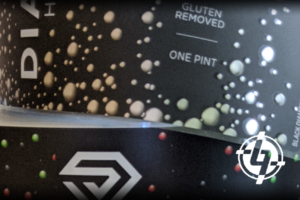 A spot varnish is a special effect that puts varnish only on specific areas of a printed piece. Use spot varnish to make specific areas pop off the label or to create texture.
In this example below from Raised Grain Brewing Company, each individual bubble in this label is spot varnished and has a soft touch textured feel to it.  The label is printed on pressure sensitive foil to also give reflective dimension.
Find out more about our label options by contacting us!